I wish I had a penny for every time someone had said "The more I read about dogs, the more confused I get". (Does that sound familiar..?).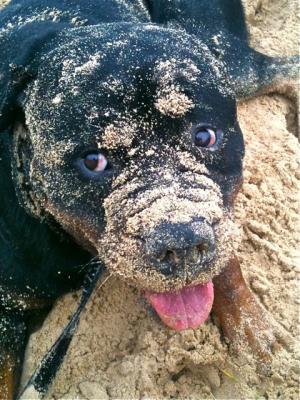 There are lots of myths and misconceptions about dogs, dog training and dog behaviour, so it's not surprising. To help, here are my top five dog facts and dog myths…
The Dog Facts
He's Just Like You – And Yet He's Unique – Dogs and humans are the only creatures who have a prostate. If you've had an appendectomy, you share something else in common too – no appendix. He's unique because no two dog noses are the same. The intricate designs in his nose can be used to identify him as unique. Just like our fingerprints. I was going to roll ink all over the sharp and pointy end of my Rottweilers to prove a point, but I think I may have something else to do right now. (In any case, as you can see in the photo, Axel's nose is pretty unique at the best of times!)
A Wagging Tail Doesn't Mean He's Happy – Well not quite. It MIGHT mean he's happy, but it may not. A slowly wagging tail combined with a stiff, low, posture can be a sign of a dog deciding whether to attack. Another dog would read the body language correctly, but not many people: "He was wagging his tail before he bit me, it doesn't make sense" is something I've heard a few times. On the contrary: It makes perfect sense in the dog world!
His Eyesight Isn't Very Good – But only compared to his senses of smell and hearing which are famously much more acute than our senses. A dog's vision, conversely, is less vividly colourful and not so 'high definition' as ours (See 'myths' below). Also because of the way his brain interprets what he sees, he's not likely to register the rabbit you spot on a walk until it moves. (But then it's 'game on'!) All dogs' night time eyesight is better than ours, however.
Sitting Down Is Not Normal For Dogs – Shurely shome mishtake..? No really, you did read that right. Dogs in the wild rarely sit. Think about wolves on the TV: They're either in motion, standing or lying down and dogs are just the same in this respect. Until people teach them to sit, they don't know how. I've been working with a ten year old Collie who'd been rescued by the RSPCA from a house where he'd been with a pack of 60 dogs and one person. He never sat down, much to the new owner's surprise. (He's also the most timid dog I've ever worked with, bless him)
Your Dog Is More Dangerous Than A Great White Shark. Every year in USA, more people are killed by dogs than have been killed by sharks in the last century. Dogs can reportedly run at up to 45 mph, can bite with a crushing pressure of more than 400 lbs per square inch and move their jaws four times faster than you can move your hand away, so man's best friend needs to be well trained. In fairness to dogs though, it is a fact that THE most dangerous species you'll ever  meet are humans. (See also: 'Why Do Dogs Act Aggressively?')
The Dog Myths
Tug of war is to be avoided. The biggest misconception people have about playing games with their dog is that tug-of-war will turn him into an aggressive monster. That's not true, just so long as you control the game and have rules. If fact if you use tug of war to teach him to release a toy on command, you'll have more control, not less. So done properly, tug of war can actually help improve dog behaviour.
Dogs are colour blind. Dogs do see in colour, but they see differently to people and are less able to distinguish between colours. Veterinary ophthalmologists discovered that dogs see a little like people who have red/green colour blindness. What they ARE good at is detecting motion. It's a hunting instinct. A tip: If you've called your dog and he's not responding, try moving about. (Or read my Dog Recall Article)
You can't teach on old dog new tricks. Oh you can! I do, all the time. Mostly, they're not as set in their ways as us and there's evidence that dogs enjoy learning throughout their lives. Perhaps this myth came from the importance of teaching and socialising puppies while they are young. It is absolutely true that there's no substitute for early learning and puppy training – But that doesn't mean older dogs can't learn either.
A human year is equivalent to seven dog years. No! It's too simple a formula because most larger breeds only live half as long as terriers and smaller crossbreeds. A five year old Rottweiler may be half way through his life, whereas a Jack Russell of the same age would be a relative youngster. Development in the first few months follows a similar pattern for most breeds though, so you might consider most dogs of nine months to a year or so to be 'teenagers', for example. Oh what fun!
There are no bad dogs, only bad owners. Hmm. Not 'bad dogs', perhaps, because it's not the dog's fault as such, but the truth is many dogs are born with natural instincts we find distasteful. Some more than others. Dog behaviour comes from genetics – breeding – as well as training. Take the example of the couple who've had a dog since she was a puppy, and despite their best efforts, she's aggressive to other dogs. Understandably, it embarrasses and distresses them. Is she a bad dog? Are they bad owners? Certainly not – on both counts. (Incidentally, it can be controlled with expert help. It's the sort of thing I'm helping people with all the time in One to One dog training )
Graeme
Graeme Hall MGoDT, 'The Dogfather' is one of the UK's top dog trainers. Based in the Midlands, covering all of the UK. He's a Master Dog Trainer with the Guild Of Dog Trainers. He's trained over 5107 dogs and is recommended by vets. He's frequently featured on TV, radio and in the press.

Graeme can come to you wherever you are – and wherever there is a dog behaviour problem to fix or expert dog advice needed. Contact us today!