Here's a bit of fun! Five more dog training, dog behaviour and dog law myths and dog facts for you. You may be surprised by some of these! (Just 1m 19secs to read)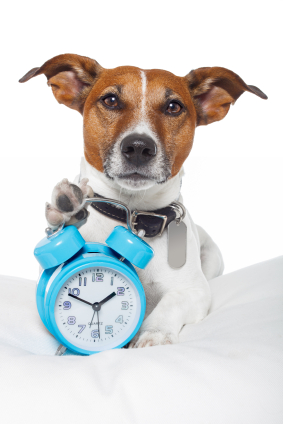 Dogs MUSTN'T eat raw bones. Surprisingly, perhaps, that's not entirely true – Raw bones and meat is what they were designed for! So long as they are big enough not to choke them, it's no problem for healthy dogs. "As fit as a butcher's dog" has been a stock phrase for a long time! Smaller cooked bones, however, can splinter. They're the ones to avoid at all costs
Dogs have NO concept of time. In fact, dogs have a very accurate biological clock. If you regularly feed your dog at the same time of day you'll know this when your dog develops his own special way/s of reminding you it's dinner time! You may notice that in Spring and Autumn when the clocks change they fail to adapt immediately. Incidentally, they also have memory – If not, how could we train them..? They do, however, think "in the now" in a way that's quite different to people. (Check out my free article What Is My Dog Thinking? for more info on how this works)
Puppies need LOTS of exercise to burn off energy. They certainly do have boundless energy on tap some of the time. Puppies are often a handful, but over-exercising them can cause long term bone and joint damage. At four months old, even 30mins is too long for most. Ask your vet about your breed. Hydrotherapists know this too – sadly they often treat even one year old dogs with problems caused by over-doing exercise. Don't let it happen to you! The answer, incidentally, is lots of mental exercise to help tire them. Here are my 7 Ways To The Perfect Puppy
There can only be ONE leader in the house. Dogs will happily learn to take everyone's lead if you all learn how to be good leaders. A little professional advice can go a long way and being a good leader certainly isn't about bullying them into submission. That doesn't work with people and it's not the right way to treat your dog either. You all need to be 'singing from the same hymn sheet' too, of course.
If your dog's microchipped, you DON'T need a dog tag. You do! The Control Of Dogs Order 1992 requires every pet dog in a public place to have a visible form of identity such as a disc on the collar.  The information legally required is your name and address but you can add other things too such as a contact phone number. That's a good idea. Is your dog legal..?
Graeme Hall MGoDT, 'The Dogfather' is one of the UK's top dog trainers. Based in the Midlands, covering all of the UK. He's a Master Dog Trainer with the Guild Of Dog Trainers. He's trained over 5107 dogs and is recommended by vets. He's frequently featured on TV, radio and in the press.

Graeme can come to you wherever you are – and wherever there is a dog behaviour problem to fix or expert dog advice needed. Contact us today!