You'd be forgiven for thinking that walking the dog was a piece of cake. With some dogs it is, but with many it's an ordeal that owners endure for the sake of their pets. Whether your dog is over-excited, pulls or is aggressive, there's help at hand with Dogfather One To One Dog Training. Meanwhile, here are my top free tips for happy dog walking.. (1m 49secs to read)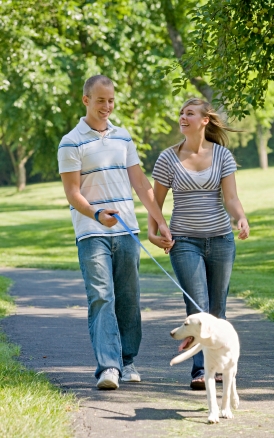 You are NOT wa

lking

the dog. Sound crazy? Here's how it works: YOU are going for a nice walk. Out of the goodness of your heart, you're taking Rover along with you. You are not doing this for them and it's not their walk, it's YOURS. (Actually it IS for them but Shhh.. Don't tell your dog!). You decide where to go, at what speed, and when you want to stop. The dog doesn't get to dictate it to you by pulling or dragging etc. You control the walk. OK?
Don't stop at each lamp post/bush/wall. Males especially often stop to mark territory. Did you just decide to stop or did he? If it was the dog, then see above! He can wait until you find a suitable place. It's OK. If he thinks he can stop at will, then who is controlling the walk? If he's controlling you, can you blame him for pulling you around? The same applies to sniffing the ground etc. (The dog, that is not you…)
A walk in the park should not look like a walk in the park! Instead, you should walk with a purpose: Walk at your own speed, but with head up and as though you know exactly where you are going. (Even if you don't!). Would you follow someone who looks aimless? Dogs rarely do! If you want them to follow your lead, rather than try to pull you around, first you must LOOK like a leader. You'll be amazed at the effect it has.
You don't have to let your dog say hello to every dog. You don't stop and talk to every person, do you? Why would your dog get to say hello to every other dog they see? Some, like people, just don't want to be sociable today, thank you. If you decide to walk past, then walk past. That's OK. If you want to stop, stop. It's your call. You're the one in charge!
Don't spend a fortune on a special dog training collar or dog lead. I've known people to get through over £100 worth of dog collars and dog leads to no avail before they called me. I normally use very simple equipment in my dog training. It's HOW you use it that counts. If you do need something different, I can advise what's best for you and your dog.
On the subject of dog supplies, I think that if you have a retractable dog lead, it may be doing you more harm than good right now, depending on how you use it. They absolutely can be used to great effect (In fact I quite like them for many dogs). I'll tell you the secret to using them (So long as you promise not to tell!)
If you're having problems with your dog walking and it's not a pleasure anymore, don't call in the osteopath just yet, call a professional dog trainer instead. In no time at all you could be enjoying your dog walk so much more. Like most things in life, walking a dog is much easier when you know how.
Graeme Hall MGoDT, 'The Dogfather' is one of the UK's top dog trainers. Based in the Midlands, covering all of the UK. He's a Master Dog Trainer with the Guild Of Dog Trainers. He's trained over 5107 dogs and is recommended by vets. He's frequently featured on TV, radio and in the press.

Graeme can come to you wherever you are – and wherever there is a dog behaviour problem to fix or expert dog advice needed. Contact us today!