Puppies are lovely, aren't they? But just like the little girl in the nursery rhyme, when they are good they are very very good, but when they are bad they are horrid. Puppy training is all about a little knowledge and…  (1m 51secs to read)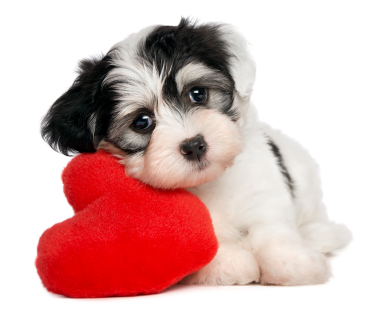 … a lot of patience. I can't help you much with patience ("Found seldom in a woman and never in a man", according to my old grandma) – but I can certainly help you with the knowledge.
In our one-to-one puppy training I deal with all of the common puppy problems (and some not-so-common ones too), so I thought you may find it helpful if I passed on a few brief tips for happy puppies (and puppy owners!) here on the website to help you get started in the right way.
Socialise your puppy. You can't do too much puppy socialisation. There's a critical period in the first three months of life when imprints of the world are formed in the mind of the young dog. Expose your puppy to as many things as possible and act as though it's all quite normal. Try not to overreact if your puppy is fearful – you might give the impression you're afraid of something too. Instead, give confidence: "Fireworks? Oh they're all part of the rich tapestry of life my lad. Traffic? Nothing to worry about! Come on let's keep walking."
Train your puppy. You should budget for puppy training as part of puppy ownership. There's loads you can do for yourself, but you can't beat a good puppy training class. Clicker training is a great way to start with a puppy (although I don't user a clicker myself, preferring to use my voice to the same effect and employing the same psychology. Book me for a one-to-one session and I'll show you, it's really easy and great fun!)
Toilet training. I like to make things easy for a puppy to understand. If he goes to the toilet inside while you're there, you can tell him off mildly and take him outside. Praise him calmly when he goes to the toilet outside – I emphasise 'calmly'. Pretty soon, he'll begin to get it: Inside – Bad, Outside – Good. If he has an accident inside while you're not there, you've missed the chance to tell him off because dogs think in the now – corrections and praise must happen immediately. Make a good job of cleaning it up and wait for next time. The more you're there to guide him, the quicker he'll learn
Be calm, not excited. It's all too easy to match your puppy's natural exuberance with life with more excitement of your own. Be happy and reward the things that you want to see more often with affection and treats, but try to keep a calm disposition. Calm owners have calm dogs – and excitable loud owners often have excitable loud dogs – It's your choice!
Consider Puppy Crate Training. To keep your puppy safe in the house and to provide a safe haven, think about training him that a wire cage ('crate') is a nice place to be. Start by allowing him to wander in and out without the gate ever being closed. Hide a few treats in there perhaps and never use it as a punishment place. Get it right and your puppy will quite happy to be closed in there safely out of reach of electrical wires and things that can be harmful when you can't be there to watch out for him. Mine often take themselves off to the crate for a rest when they want some peace and quiet and they're a long way past the puppy stage now.
Learn How To Be A Good Leader. Dogs, like us, feel happiest when someone confident is at the helm. It's all about showing the way, setting rules and boundaries without ever being a bully. The more you can learn about what dogs understand to be a good leader, the better the bond between you will be.
Master The Art Of Walking. Sounds daft, doesn't it? You can probably walk just fine on your own but walking a dog is a little different. There are techniques to it, for sure, but the most important thing is what's going on in your head. If you act like a follower, your puppy will delight in leading you all over the place. If you look like a leader, on the other hand, you're well on your way to being one of those people other dog owners envy – you know the ones who have a dog that just trots obediently alongside them..? It all starts with the right mental attitude. More on this in my article "5 Ways NOT to walk your dog"
Well there you have it – a few snippets on how to get your perfect puppy. It involves a bit of hard work from you (mental as much as anything else), but it's worth it in the end. There's nothing like the unconditional love you receive from your dog.
You can test this one out for yourself, incidentally – Try locking your dog and your Dearly Beloved in the car boot for an hour. Then go back, open it up and notice which one of them is pleased to see you…(Just don't tell them I said to do it.. )
Graeme Hall MGoDT, 'The Dogfather' is one of the UK's top dog trainers. Based in the Midlands, covering all of the UK. He's a Master Dog Trainer with the Guild Of Dog Trainers. He's trained over 5114 dogs and is recommended by vets. He's frequently featured on TV, radio and in the press.

Graeme can come to you wherever you are – and wherever there is a dog behaviour problem to fix or expert dog advice needed. Contact us today!