It's a subject that hits the news with depressing regularity: Children attacked by family pets. And yet there's so much you can do to prevent it…

Recently, I was asked to comment by the TV and radio about the case of a 5yr old girl who was attacked by the family American Bulldog in Northampton when she went to kiss it, causing her severe facial injuries. It's not hard to imagine the anguish it must have caused for everyone concerned. The dog was taken away by police and destroyed.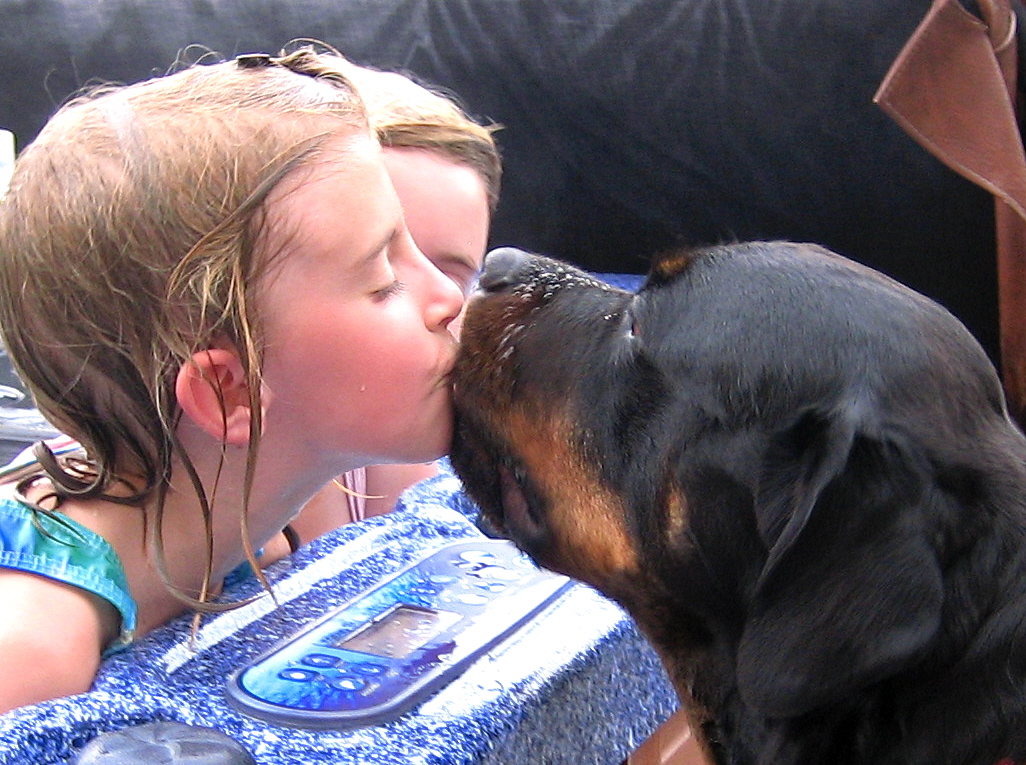 Dog behaviour like this is so avoidable if only dog owners follow some really simple steps. Although people are often concerned about badly behaved dogs they see outside, the fact is that most serious dog attacks involving children happen with a dog owned by the family or friend, often in the home. With that in mind, I've put together some simple tips to ensure yourchildren stay safe with dogs.
Never, ever, allow small children to be alone with dogs. It only takes a second for a dog to react to something unexpected for a tragedy to occur. It's not worth it! (The case quoted didn't happen when the child was alone with the dog. No doubt the outcome could have been much worse if it had…)
Teach children some simple rules for dogs. Play should be calm, for example. Taking food from dogs, and waking them up should be done with caution. Kissing a dog on the nose isn't always so cute to a dog as it is to us – It may be seen as a challenge. Avoid it unless you really know what you're doing. (Check out the Rottweiler above – I can see at least four things that tell me she's calm.. can you?)
Ensure your dog has enough exercise. Frustrated excited dogs and small children do not mix. If you don't have to time to walk a dog, or can't afford a professional dog walker, don't have a dog, it's not fair.

If you suspect your dog may have a medical problem, get your vet to check it out for you. Dogs in pain can be very dangerous and unpredictable. The only time I was bitten last year, out of three hundred-odd dogs, was by a dog that we didn't know was suffering.
Get some training for you and your dog! A well trained dog is a safer dog – as well as a pleasure to live with. It's my belief that you can only really achieve that by having some understanding of why dogs behave the way they do. A little dog training goes a long way – you don't have to have ambitions towards Crufts to have a well behaved dog.
These tips apply to all breeds of dog, no matter how large or small. When dog attacks happen, the question is always asked "What kind of dog was it – and is it banned by the Dangerous Dogs Act?" It's understandable but I have mixed feelings about this approach:
On the one hand, any breed can be dangerous and you're no more or less likely to be attacked by an American Bulldog than a Poodle. Everyone who owns a dog – regardless of breed – should take responsibility to ensure that their dog is as well behaved as they can be. It's deed, not breed, that counts – and dog owners play a large part in that.
On the other hand, there's no doubt that a serious attack by a powerful breed is going to hurt you much more than even a frenzied assault from a small dog. That's why I believe that owners of these breeds need to take their responsibilities especially carefully. That's also why dog attacks from large breeds always make the newspapers – the consequences are so much more severe. It's not that small dogs don't attack as frequently – because they do – they just don't make the headlines: "Granny Grazed by Terrier's Tantrum" doesn't really cut it, does it? (Although you have to admire the alliteration, eh?)
The fact is that if it's done properly, children and dogs DO mix and there's no doubt in my mind that both parties can gain much from the interaction if it's done in the right way. There's absolutely no substitute for good training – both for dogs and people (Including for children). When you consider the cost of ownership of a dog over his or her lifetime, it's a small price to pay for the peace of mind and sense of achievement in owning a well behaved family dog.
If in doubt, get some professional help, and for safety's sake: Don't leave it until it's too late!
For more free articles and tips exclusive to this website, click here!

I'm Graeme Hall MGoDT, an independent professional dog trainer and dog behaviour expert based in Northamptonshire, covering the UK. I'm a Master Dog Trainer with the Guild Of Dog Trainers. I can come to you wherever you are – and wherever there is a dog behaviour problem to fix or perhaps dog advice or dog help needed. If you'd like to learn more about The Dogfather and dog training, check out What I Do. Alternatively, you can Contact Me Here