Many of my clients have a rescue dog – or sometimes a number of rescue dogs (It seems that one is never enough!). That's great because there are so many dogs in dog rehoming kennels who deserve a better life.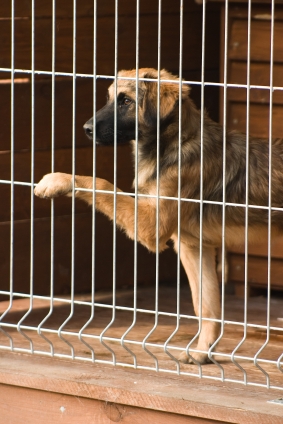 Often the cost of taking on a rescue dog is very little – the cost of a donation – and many come already vaccinated and microchipped and may be neutered too, saving you even more.
The catch is that some rescue dogs come with their own quirks and dog behaviour problems that you might need to overcome. Rehome dogs aren't alone in this respect, of course, but many either have issues before they were put up for pet adoption, or developed them in kennels because – despite the best efforts of the caring staff at the dog rescue centres – unfortunately kennels aren't usually the best environments to help fearful or aggressive dogs.
The good news is that almost any dog behaviour or dog training problem can be remedied (or at least controlled) if tackled in the right way. If you are interested in rehoming a rescue dog, here are my top five tips for you:
Choose your rescue dog carefully. Make sure your energies and that of other pets in your household match. Are you looking for a ball-of-fire of a dog to match your hectic lifestyle or a laid back moocher to share your life and home? How much exercise do you both need? (Hint: If your dog is putting on weight, experts agree that YOU aren't getting enough exercise!). Do your homework on dog breeds and their temperaments and in the case of cross breed dogs, simply assume you'll have a combination of the behaviours typical of the breeds that may be in the mix. If you'd like to know more, check out my article Choosing The Right Dog For You

Consider what age of dog suits you best. If you want a puppy, there may be some around, although they often find homes more readily. Older dogs are easier to find, are often more mellow, are frequently trained and are the ones that find it harder to find forever homes. Could you share your home with an older dog? Incidentally, I've found from experience that the old adage "You can't teach an old dog new tricks" simply isn't true. You certainly can train an older dog
Think with your head, not your heart. I know, it sounds so cold and clinical, doesn't it? The trouble is, it's difficult not to get carried away when you're looking at rescue dogs, but you really must make your decision based on what you can and can't cope with and not on your feelings as you gaze upon the sad eyes looking out of the kennel at you. If you choose the wrong shelter dog because you weren't thinking clearly, then you didn't really do them any favours after all, did you? My top tip: Sleep on it before you commit to taking on your rescue dog!
Don't feel sorry for your new rescue dog. He/she's just found a lovely new home and a caring owner. Whatever happened in the past is just that – in the past. Dogs live in the moment and whatever dog behavioural problems they may have been left with will not be made any better if you treat them with pity. Good leadership in combination with sensitivity and understanding is the best way to rehabilitate dogs. Let the good times roll – Starting now!
Don't be afraid to ask for help with dog behaviour issues. If you're lucky, there may be a dog behaviourist at the dog rescue centre who can help, or you may prefer to ask a local professional dog trainer or dog behaviour expert. Either way, if you're struggling don't feel like a failure – Sometimes it just takes a little more dog training and behaviour experience and knowledge than most people have access to in order to kick start your dog's new life. We all need a little help sometimes and you owe it to your rehome dog to give it your best shot.
Rehoming a pet dog could be one of the most satisfying things you ever do. It may take a little effort – like all the best things in life – but it's a great feeling to have a happy well behaved rescue dog. (Don't take my word for it, ask a Dogfather client, or check out What Clients Say!)

Graeme
For more free articles and tips exclusive to this website, click here!
I'm Graeme Hall MGoDT, an independent professional dog trainer and dog behaviour expert based in Northamptonshire, covering the UK. I'm a Master Dog Trainer with the Guild Of Dog Trainers. I can come to you wherever you are – and wherever there is a dog behaviour problem to fix or perhaps dog advice or dog help needed. Contact me here