I've written about walking the dog in a previous article – Advice on the best ways to get your dog to walk nicely without pulling on the lead. This time I thought I'd give you a slightly different slant – My thoughts on how to make dog walking more stress-free for all..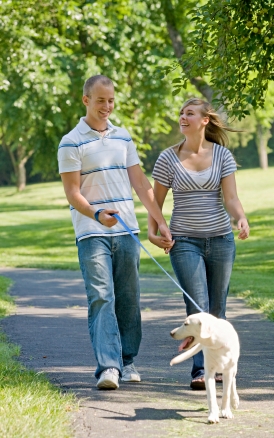 I spend a lot of my time walking dogs, both with clients and when I'm out with my own dogs. I'm occasionally frustrated by the actions of other dog owners and I'm sure you are too so I thought I'd share with you some recommendations for a less stressful dog walking experience for everyone – a "Dog Walkers' Guide" so to speak. Here's some advice which I hope will be equally helpful to new dog walkers and experienced dog people alike.
I'm amazed that some dog owners will allow their dogs to run up to people and dogs indiscriminately, sometimes jumping up for fuss or even being aggressive. I own two large male Rottweilers who are very well behaved but who – through no fault of their own – make some people nervous. If I see dogs being walked towards me on lead or if I see people who look in any way uneasy I always put my dogs on lead. To me, it's just common courtesy to call the dogs back and walk past politely on lead. In my mind, I'm doing my bit for the reputation of the breed and for dogs in general.
Think of it this way: You wouldn't let your children run amok in the park, running up to all and sundry demanding attention and insisting strangers play with them, would you..? So why's it OK for dogs? Some people – like some dogs – would rather not be played with, thank you very much! You certainly wouldn't let children run free if you thought they might have a tendency to start fights with their peers, and yet I see it frequently with dogs. I'm sure you can think of examples too where off-lead dogs have been a nuisance.
I wish I had a pound for every time an unknown off-lead dog had run up to mine, or a client's dog walking nicely on-lead, for the owner to appear and explain "It's OK, he's friendly!". How does he know mine are..? I've had this happen when my client's dog has aggression issues with other dogs and has done the responsible thing in calling in some professional help. There we are, walking the dog, minding our own business when an excitable dog appears, jumping about and demanding fuss. It's a recipe for disaster even if the trainee dog is muzzled – Claws can do a lot of damage! Incidentally, in cases like this if the police of dog warden were called, the first question they tend to ask is "Was your dog on lead?" You're generally in a weaker position, all things being equal, if yours was off lead at the time of an incident.
I'm certainly NOT advocating that dogs should always be on lead, simply that dogs should always be under good control. It's quite possible for a dog to be off lead and yet under good control – and conversely I see dogs on lead but OUT of control on a daily basis too. Here's the thing: If you can have your dog running free, then recalling to your side on command and walking to heel past distractions such as other dogs every time, then great – I take my hat off to you – that's not easy! But if you can't, then the answer's clear – put your dog back on lead every time he/she could be a nuisance to other people before it happens – whether they're dog owners or not. It's even more important if you have the type of dog that people might be intimidated by. Please respect their feelings – even if you know they are unjustified.
If you have a small dog, incidentally, please resist the temptation to pick it up if another dog runs up to you. You'll almost certainly encourage the other dog to jump up, perhaps hurting you or your dog in the process. Admittedly it wouldn't happen if everyone followed the guidelines above, but unless you think the dog running towards you is intent on attacking (running with a low head, for example, ears back and in a predatory fashion), it's best to leave your dog on the ground. If you do pick your dog up when another really is going to attack, there's a good chance you'll get bitten instead – or as well. You might judge that's a risk worth taking in those dire circumstances. However if you pick up your dog when in fact it all started out as play, there's a chance you could escalate the excitement into a situation where you and your dog get bitten needlessly. To my way of thinking, that's not a risk you should take.
So there we go – the thoughts of Chairman Mao on how to walk a dog in public. If you'd like more information on actual techniques for lead walking, please check out my article "Five Ways NOT To Walk A Dog"
For more free articles and tips exclusive to this website, click here!
I'm Graeme Hall MGoDT, an independent professional dog trainer and dog behaviour expert based in Northamptonshire, covering the UK. I'm a Master Dog Trainer with the Guild Of Dog Trainers. I can come to you wherever you are – and wherever there is a dog behaviour problem to fix or perhaps dog advice or dog help needed. Contact me here