I thought I'd share with you some of the main reasons people call us for help with dog training and dog behaviour advice. If you recognise any of the following, don't feel you're on your own because you're most certainly not – Every day I receive enquiries about these and other dog behaviour problems
1)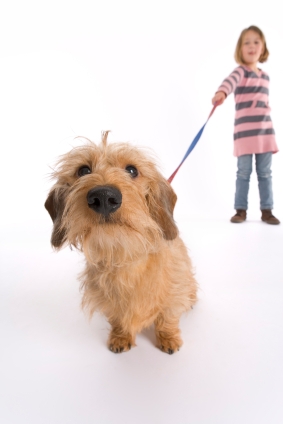 Dog Pulling On Lead. The No1 reason people call Dogfather for dog training help. Whether your dog is as strong as a Rottweiler or as small as a Jack Russell Terrier, there's no doubt that walking the dog is unpleasant if your dog pulls or runs around on lead. I've developed a technique which works well based on the right way to use the right equipment, properly fitted (using a simple dog collar and dog lead, nothing fancy or expensive). To describe it fully is impossible here but you can learn a little more in the article 5 Ways Not To Walk A Dog
2)     Dog Jumping Up. Usually for attention. Can I ask: What do you (or visitors) do when your dog jumps? If the answer's anything other than "We completely ignore it", then the chances are that it will get worse. It's not easy to ignore, especially with large breeds, but that's the best way if you can. Any reward (attention) will usually cause a behaviour (jumping) to intensify. If you've tried ignoring it, or just can't because it's too intense, you may need a little professional help to stop your dog jumping up. It's not usually hard to fix. Meanwhile, ignoring it means completely because a little attention – even occasionally – makes it worthwhile for your dog to always keep trying. Make sense..?
3)     Dog Barking. How annoying is excessive barking..? First, we need to establish the reason: Boredom? For attention? To protect the house and garden? Aggression to people or dogs? Depending on the root cause, the way we stop dog barking will vary greatly. Suffice it to say that treating the symptom (dog barking) with a cheap gadget such as a special bark collar is never my first port of call – and be aware that most rarely seem to work anyway. It's better to find a good local dog trainer or dog behaviourist instead. See also my article I Have A Dog Barking Problem – What Can I Do?
4)     Dog Runs Away. (Dog recall) Hard to believe, I know, but squirrels, rabbits, other dogs and rabbits really ARE more exciting to your dog than sight of you waving about bits of sausage, jumping up and down and desperately calling his name. Funny that! The truth is, though, that if you don't train Fido to come back to you when other things really are more enticing instead, you can't expect him to do it in the real world. There's a big difference between coming back when no one else is around (and indeed in most dog training classes) and coming back under distraction – as you've probably found out! I use a simple £10 long line and I reckon I can teach anyone the basics of my dog recall training technique in an hour or so. It takes a little dedication on your part – but its well worth it.
5)     Dog Chewing / Dog Biting. Including puppy biting. The reasons are many, so I'll concentrate on the two most common enquiries I receive: For puppies chewing furniture / socks / anything unwanted, I always suggest 'puppy-proofing' the house, ensuring anything that can be damaged or can be dangerous to the puppy (such as cables) are out of harm's way. Consider puppy crate training too. Puppies will be puppies, I'm afraid, and like babies they explore their world with their mouths. For dog and puppy biting, chewing or mouthing people (usually hands and arms) for attention, that's different. The best way is to let out a very loud and high-pitched scream of "Oww!" and remove your hand immediately. Full-on drama-queen acting is called for here, and you may also walk away from the dog. Say nothing more and don't come back to play for a minute or so. After a few repetitions, you'll see an improvement. Don't forget that everyone in the house needs to do the same too. A house full of drama queens.. What a thought!
Incidentally, it almost goes without saying, but if dog biting is in any way aggressive towards people or other animals, you really must seek some professional help, it's simply not worth the risk. Dog aggression isn't something that you should ignore.
So there you go: My top 5 dog behaviour problems. If your dog does some (or all!) of these things, it's really not so unusual, it's not incurable, and there's certainly help at hand – Contact me today! It's also interesting to note that clients report that fixing these problems has given them a happier dog – a real 'win-win' situation for everyone. Check out What Clients Say for details.
Graeme Hall MGoDT, 'The Dogfather' is one of the UK's top dog trainers. Based in the Midlands, covering all of the UK. He's a Master Dog Trainer with the Guild Of Dog Trainers. He's trained over 5107 dogs and is recommended by vets. He's frequently featured on TV, radio and in the press.

Graeme can come to you wherever you are – and wherever there is a dog behaviour problem to fix or expert dog advice needed. Contact us today!