July's copy of Countryside Magazine carries Part Two of a feature with Graeme Hall "The Dogfather". Staff writer Guy Whitmore meets LOTS of dog trainers but when he needed help with his own recently rehomed ten year old dog Bobby, he chose Dogfather Training.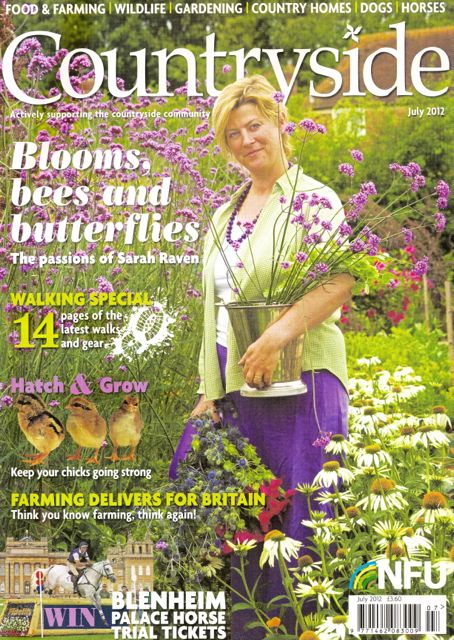 Bobby had never been trained or socialised. In fact he'd hardly met any humans in his life. He was far from the average rehome dog and he needed
a special kind of trainer…
Graeme explains:
"The story behind Bobby was that he's been rescued from a house where he'd been kept with 60 other dogs (Yes, really!). When I first met him in the summer of 2011 I knew straight away that he was THE most timid dog that I'd every worked with. He still is and the tally now stands at over 1,600 dogs. He was so timid that he wouldn't eat and he wouldn't look at anyone. In fact he hated being in the same room as people and spent his whole time trying o get out into the garden, as far away as he could. In order to feed him, Guy and partner Caroline had to leave his food down and go upstairs for long periods before Bobby would pluck up courage to have a bite to eat.
"He was safe now but he didn't know it and my job was to show him – and the Whitmore clan – the way to happiness. And that's what we did together. Over several months (and just a couple of follow up visits from me) he got better and better. It was well into autumn before I was able to say to Guy that he'd reached the point of being 'just an ordinary quiet dog with no training'. Now the work 'proper' could begin. We trained him to walk nicely on lead. First attempts were met with lots of pulling as Bobby was terrified of the outside world – He was panic stricken and wanted to bolt. Once he was walking nicely, we taught him how to come back on command. It took a long time but it was well worthwhile.
"I'm pleased to report that he's now a happy calm dog living the rest of his years out in the Whitmore household. In fact everyone's delighted, me included of course – That's the best part of my work!"
You can read all about it in the June and July editions of Countryside. Incidentally, to access dog training with Graeme Hall in person tailored for you and your dog, check out Dogfather One to One Training
Graeme Hall MGoDT, 'The Dogfather' is one of the UK's leading dog trainers. Based in Northamptonshire, covering all of the UK. I'm a Master Dog Trainer with the Guild Of Dog Trainers. I've trained over 2,000 dogs. I'm recommended by vets. I'm one of the few dog trainers chosen by the Hollywood film industry and you'll frequently hear me on BBC Radio.
If you're looking for a dog trainer or dog behaviourist I can come to you wherever you are – and wherever there is a dog behaviour problem to fix or dog expert advice needed
. Contact me today!