My Teacher Jogi Zank Wins Germany's Biggest Working Dog Championship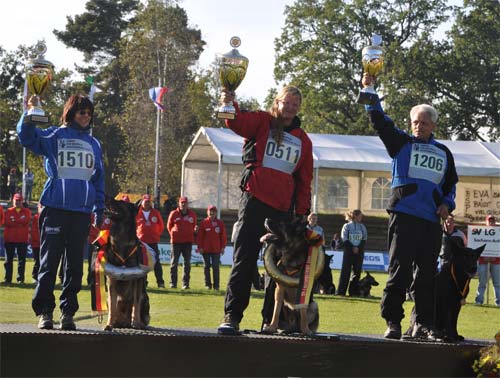 You may have heard that I was in Germany (again!) for a long weekend, buying dog training equipment that I can't get in UK, watching the BundesseigerPrufung, the national schutzhund championships for German Shepherd Dogs, and watching and learning from the training at a local schutzhund dog training club.
The event is the biggest and most prestigious working dog championships in the country and the level is very high indeed. 120 dogs/handler teams take part and the standard in the three disciplines of tracking, dog obedience and protection is really impressive.
The event was won by Jogi Zank who I trained with this summer on my last trip to Germany. His scores, out of a hundred, were: 99, 95, 97. I was delighted for him. Not only is he one of the best dog trainers in the world, he's a really nice guy. His dog (Eric) was 2yrs old when he rehomed him. He's not an easy dog to handle but Yogi's turned him into the best working German Sherherd Dog in Germany. You don't need me to tell you that's an amazing achievement!
For most people, of course, competition obedience is not what they want for their pet dogs – but I find that there's a huge amount that I've learnt from schutzhund that applies to everyday good dog behaviour and it brings something special to my work. I train with my Rottweiler called Gordon at the Birmingham Schutzhund Club where I'm one of the trainers. Some of my clients have met Gordon as he often helps me with aggressive and fearful dogs. If you've seen Dog Whisperer Cesar Millan's Daddy on the TV, you'll know what I mean.