Zoe from Finedon wrote to tell me she's "over the moon" with her Jack Russell's new calm behaviour

Zoe from Finedon had become worried about her Jack Russell Terrier's behaviour towards her friend's toddler, so she called The Dogfather and between us we made a big difference to her behaviour. Zoe's delighted. Here's what she had to say: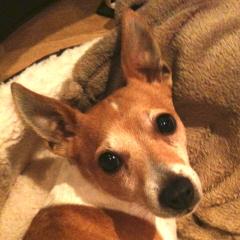 "I contacted Graeme as my cute little Jack Russell that I had had from a tiny puppy who loved everyone and loved to be loved started growling and being possessive of things, and me when our friends visited with their little 2yr old toddler.
Having tried to reprimand Elle myself and having no success, I knew I couldn't let her get to the point she nipped the child or worse! I contacted Graeme and explained, even though I felt a bit silly not being able to control my 5kg Jack Russell when I have worked with half a ton of horse at a time successfully!
Graeme came to the house and we spent time talking about the whole situation, then my friend brought round her little girl so he could see Elle's reaction! Not only did Graeme show me what to do in the situation with the child, he gave me a number of things to work on to make Elle know her place (below that of any age of human).
2 weeks on and I am delighted to say that Elle has a lot more respect for me and what I say. The big test was when my friend brought over her little girl for the first time since the dog training started. Although we got some grumbles from Elle, she was very good and the little girl was stroking Elle's tummy, asking Elle for a paw (even if Elle looked a little unsure she was obedient and praised for being such a good girl). It was the most relaxed I have managed to be wth the little one around. Elle didn't even try to guard anything in the house. She even picked up the courage to go through to where the little girl and her mum were in the kitchen, sniffed around both of them and came back to me!
There was nothing complicated about the dog training techniques that Graeme told me to use, but he educated me to how a dog thinks and I know I couldn't have managed to correct my dogs behaviour without him.
There must be so many dogs out there that become homeless as us humans just don't understand them, or how to correct them!
Thank you so very much Graeme, I am over the moon with the change in Elle's behaviour!"
If you'd like help with a dog behaviour problem, please contact me to discuss what I can do for you

I'm dog training throughout Northamptonshire every day (Inc Northampton, Kettering, Wellingborough, Higham Ferrers, Rushden, Burton Latimer, Rothwell, Desborough, Daventry, Towcester) As well as Northants, I offer dog training and dog behaviour help anywhere. If you need dog classes, a dog trainer, a dog behaviourist or a dog psychologist please contact me) Graeme Hall (Graham Hall) "The Dogfather"