Dogfather Dog Obedience Demonstration and Tracking-For-Fun Seminar At Rottie Fest 2009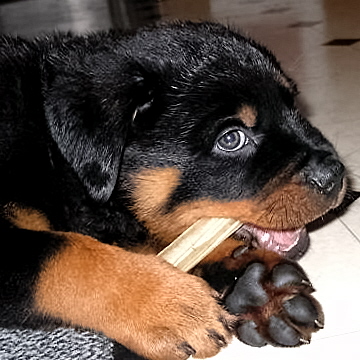 I make it no secret that I love all dogs but I have a real soft spot for Rottweilers and I'm delighted to have been invited along to Rottie Fest 2009 on Saturday 29th August in Keythorpe, near the Leicestershire and Rutland border. Although the event is organised by and for Rottie owners, all breeds and everyone are very welcome. The event is being run in aid of SHAK dog rescue charity.
I'll be giving a demonstration of obedience dog training with Gordon, my three year old Rottweiler as well as holding an informal seminar on how to get tracking for fun with your pet dog (It's fantastic mental exercise and really enjoyable for your dog – They'll be tired out afterwards. You might be too!).
Incidentally, the obedience and tracking is something I train for to enter Schutzhund trials. You can see more at the Birmingham Schutzhund Club website. (See if you can spot Gordon). Although schutzhund's very specialised and quite an advanced sport for working dogs, lots of pet dog owners find it interesting and the obedience and tracking skills are certainly valuable for everyone.
Rottie Fest comprises a Companion Dog Show run under Kennel Club rules and there will be lots of other fun events for dog lovers including:
Rottie and spoon race

Guess the weight of the puppy.

Number of biscuits in the jar.

Pin the stump on the rottie.

Dog Scurry – fastest pooch to retrieve a ball over obstacles.

Fun dog agility course.
For more info, please check out the Rottie Fest 2009 website.