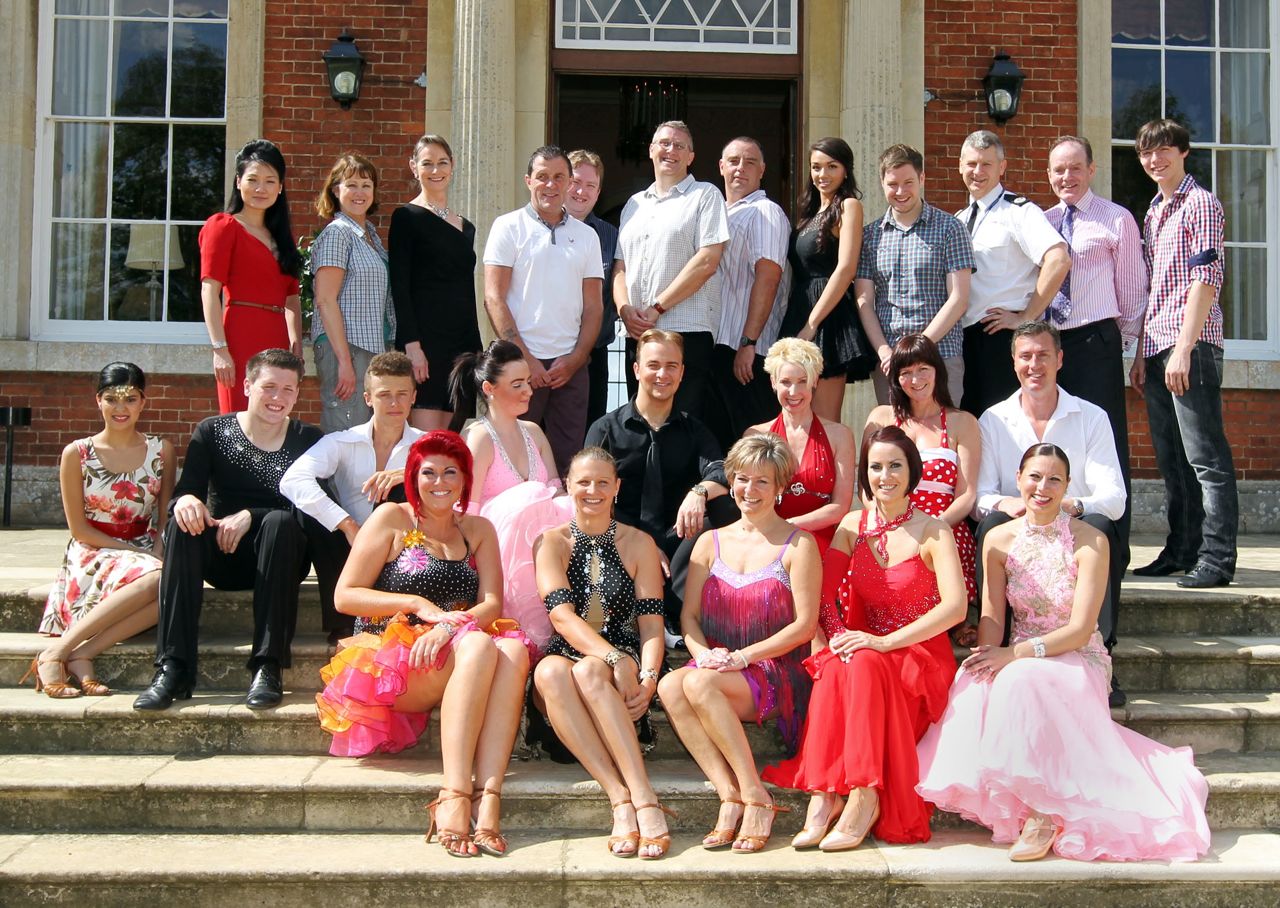 You've heard of Strictly Come Dancing..? Well I've been chosen as one of the celebrities in Strictly Northampton 2012. Dancing Dogfather..? Oh yes!! (Updated Thurs 1st Nov 2012)

Updated Thurs 1st November 2012.. Oh hell it's November already! Life's a blur of dance moves at the moment. Only today I've danced Waltz (With Doris the Viennese), Cha Cha with five partners, Paso Doble (I rather fancy myself as a bullfighter), Quickstep (Wobbly!), Foxtrot (Not very foxy yet) and Tango. We only need three of those for Strictly. Did I mention I'm getting addicted..?
I've ordered my dance costumes too. Chenille, feathers and rhinestones all feature. It takes a real man to wear that lot on one shirt. (BBC's Bernie Keith would be SO proud of me!)
On the downside, we've had our first major setback too.. We planned and practiced our freestyle based on a Samba and then discovered it really doesn't sit right with our music – round peg, square hole. After a few frantic phonecalls we took the brave decision to scrap what we've done and start again. It'll still be latin – VERY latin – and it will be spectacular. The thing is, with three weeks to go before we perform it live in front of 1,200 people (And 4 judges) we're not sure what it will look like because we haven't actually choreographed it. How scary is that..?! I think poor Katie is pulling her shocking pink hair out, bless her.
It WILL be right on the night, mind!

Updated Sun 21st October 2012.. I think I might be getting obsessed with this dancing Mullarkey. They've banned me from mentioning the 'D word' at the business breakfast event I go to (50p a time – That's painful to a Yorkshireman. I have ceased and desisted).

The Northampton Chonicle & Echo caught up with what I've been doing this week. They ran a feature on my Strictly expoits and my fundraising efforts. Incidentally, could you spare a minute and a few pounds to support Macmillan on my behalf..? Here's my Just Giving page

I've done about ten hours of practice this week. Some with Katie and some at classes. I've discovered I can do Quickstep. Which is very nice and all that, but it's not what we're doing in Strictly. My American Smooth Waltz is getting – well – smoother and my cha-cha is coming on no end.

I danced a few times with Miss Northampton on Saturday in practice. "You are WELL good!" she shouted over as we cha-cha'd. I'm living in an alternative dancing universe right now. How often do beauty queens say that to 40-odd year old dog trainers..? I think I may take that memory with me to the grave. (She's actually "well good" herself, it has to be said. But shhh.. She's the competition..)


Updated Sun 14th October 2012.. I met up with partner Katie on Friday to go through our American Smooth Waltz (getting there and beginning to look like a dance, not just a couple walking through some steps. Hurrah!). The more I learn, the more I realise that there is still to learn though. There's SO much to think about as you're dancing. (Shoulder blades back and down, elbow up and out, head up, SMILE! That's before you've moved off.) It's all coming together!

We've started to work on our freestyle show dance too
.
It's a big secret of course but I can tell you there will be a doggy theme to the music and the dance is VERY latin. When we get it right, I promise it will be a big wow – happy smiling and laughing audience, impressed judges. We want it to be fun AND show the judges I've learnt to dance something a little difficult for male dancers. Katie says I can do it and I trust her. I'm determined to make her proud of me but there's a lot of work ahead. I don't think my pelvis will ever be the same again
after Friday, mind…
On Saturday with Viv Rhymes (genius teacher!) all of the couples practiced our positions as it will be on stage. Now for the first time it was more like a performance and less like a lesson.. Nerves! We also found out about costumes (Dogfather in sequins!) and one little requirement for the gentlemen that I really didn't see coming: A spray tan and a chest wax. A what..?! Oh hell. Nothing in life prepared me for this…!

Update Thurs 11th October 2012.. Went to Step by Step Dance School last night to practice my American Smooth Waltz and Cha-Cha-Cha. Wow, what a night! Andrzey worked us hard and it was an absolute buzz. I ended up partnering with Ruth Supple (dancer) and Jess Pilkington (another celeb), taking turns. We finished the night dancing a very fast Cha-Cha, one boy two girls, at the end. What fun! My brain stopped working towards the end and I started to forget the routine. "I think we've worn him out" said Ruth to Jess. They had. Worn out, frazzled, but grinning like an idiot. I dreamt of dance moves all night. Roll on the next session!!

Update Sunday 7th October 2012.. We've had 2 'proper' training sessions now, both 3hrs long with a 10 min break. It's exhausting but very very exciting. I know who my partner is now – It's Katie Jacob (She's the lovely lady with the VERY red hair, bottom left in the photo below. Together we make an unmissable team!)
I can't believe how quickly we're all learning. I danced so hard last night I ended up nearly crippled this morning with huge blisters on my feet from my new dancing shoes. See if I care! I'm off to have a little go at Argentinian Tango this afternoon. I think I may be getting addicted. Bah! There are worse addictions, right?
Saturday 11th August 2012 We recently had the meet and greet at beautiful Kelmarsh Hall, Northants. I didn't know what to expect but we ended up being put through our paces for a couple of hours by Step By Step Dance School top man, European Champion Andrzey Mialkowski.
Before we knew it we were gliding around the floor like good 'uns. Very impressive! (Impressive, that is, of Andrzey's teaching skills. The man's a genius!). I hadn't danced in my life – Certainly not 'proper' dancing such as Cha-cha-cha and Waltz. Well I have now!
There's a long way to go to the gala night in aid of Macmillan on 24th November at Northampton's Derngate theatre, but the learning and the effort starts here! Tickets are going fast and it will be a sellout, so book now by clicking the link above and please do come along and support me. I need your votes on the night if I'm going to win!
As part of my involvement I've pledged to raise money for Macmillan. You can help by pledging money easily and secured through my Just Giving page. Please tell as many people as you can. It's easy to remember but here's the link – JustGiving.com/Dogfather. Dig deep friends!
Incidentally if you're wondering which of these very impressive professional dancers is my partner, so am I! We won't find out until Andrzey has assessed us all and decided who to pair with who. It's all very exciting. Watch this space. If you happen to be in Northants, you can read all about it in the Chronicle & Echo or hear it on BBC Northampton
Photo courtesy Northampton Chronicle & Echo. I'm big ungainly bloke at the back in the middle, soon to be transformed into the most elegant thing since Fred Astaire. Did I mention that Andrzey Mialkowski is a miracle worker..? You'll see!