Dexter's Owner Hilary Sent Me a Great Email About Their Transformation – I thought You'd Like To See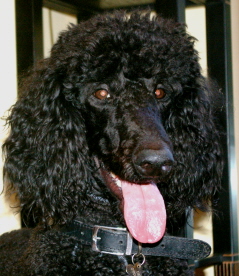 Dexter is a lovely – but very excitable – standard poodle. When I say 'standard', you might well imagine a smaller dog – But he's a very big tall and strong lad, standing with his head at my waist (And I'm 6'1″!). When Mum Hilary contacted The Dogfather, Dexter was really pulling on the lead and refusing to come back when called, also jumping up at any visitor and becoming quite a handful. Hilary called me for dog training help and by working together we transformed his dog behaviour. Here's what Hilary has to say (Not edited or enhanced, I've simply cut and pasted the email into the page for you to see):
"Hello Graeme,
 
Thank you so much for your help with Dexter – you trained me to understand the "language" of dog in so many easy, common sense ways that taking him out for a walk is now an absolute pleasure rather than an ordeal! 
 
I find it quite hard to think that only six weeks or so ago this 8 stone Standard Poodle was dragging me into traffic on walks and basically doing whatever he wanted, and today he is an easy going, obedient (well, most of the time!) and best of all, happy dog. 
 
My lasting memories of the time you spent with us can be summed up as;
 
1. Bl**dy hell, that is so sensible, why didn't I do that before?!!
 
2. Wow, that WORKS!
 
3. After one session with you, people coming into the house and not having to put up with eye contact and paws on their shoulders from an excited, large black dog!
 
4. Halfway through the training, taking Dexter to stay with friends for the weekend and being so incredibly proud of his behaviour – the skills you taught us are transferable when we visit other people's houses. (one of my goals, though I thought it would take much longer to achieve)
 
5. 95% improvement on recall!  Something I thought would never happen!  Even around sheep!
 
6. Dexter has the "wag" back in his tail and loves (and knows) his place in the pack. 
 
7. I can't let this recollection pass without mentioning your dog Gordon. If ever there was absolute proof that your methods make owning a dog safe, happy and fulfilling then it has to be seeing you and Gordon in action.  That was amazing!  Everyone should see that.
 
8. It was a lot of fun! Something else I wasn't really expecting from the training of Dexter (and me)!  Also something we have in our everyday life now you're gone thanks to the lessons you taught us.
 
I'm sure there's lots more things to mention but we all want to get out for our walk….well Ok one last thing and that was how sad we all were and still are because my husband died in July 2009.  Dex lost his pack leader and I remember when I first got in touch with you we were all so lost.  Getting back in training and routines has turned our lives around.
 
Thank you"
Wasn't that nice? I really do have some great clients! What Hilary says about my dog Gordon made me smile too. I've always said that "without a dog, I'm a liar", but he really is the proof that you can have it all – a well mannered, obedient and happy dog – even with a breed that's perhaps not known for being easy to train! If you're looking for a good dog trainer of a dog behaviourist, check out their dog, I say!
If you'd like help with YOUR dog, please contact me today.