We don't have a 'one size fits all' approach to solving dog training & dog behaviour problems.
Graeme is recognised as one of the UK's leading dog trainers. As of 17 Mar 2020, he's worked with 5114 dogs personally. He's recommended by vets and is one of the few dog trainers chosen by the TV and film industry. You'll frequently hear him on BBC radio. The Dogfather approach combines knowledge and understanding with a practical ability to get the results you want for your dog. That's more than knowledge – it's a feel for dogs & puppies. (The bit you can't learn from books alone!). All of our methods are non-abusive, of course.

You probably don't want hours of waffle and technical jargon, you just want to understand why your dog is behaving this way, and find out how to fix it, yes..? We've studied dog psychology so you don't have to. (Have you ever felt that the more you read and hear about dog behaviour, the more confused you get..?). We can explain to you what your dog is thinking and why – in common-sense terms. Most dog owners find a little dog psychology absolutely fascinating.
Whatever you need for your dog, we can show you HOW to get right result in the right way. We're hands-on dog trainers (wherever possible!) with a great reputation among our clients. There's a difference between competition dog obedience training (which most people don't want) and great everyday dog behaviour – which everyone wants. we can help you with competition dog training, but it's not what most

dog

owners want from a Dogfather consultation or dog training class. Incidentally, if you'd like to see what people say about Dogfather, have a look at our Client Reviews
Graeme works with a dedicated small team

of client managers and researchers. Together we are Dogfather Training

.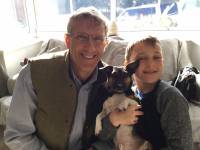 "Every dog, owner or family are different.
"Each unique combination deserves a solution that is tailor-made for you, your dog (or puppy), and your circumstances"


We love our work – and it comes across, apparently! A Dogfather consultation is entertaining as well as educational. The ones who should benefit the most in the end are the dogs of course, and we never lose sight of that – But if we can have a bit of fun too along the way, well that's fine by us!
If you'd like to learn more about Dogfather dog and puppy training, just click on the tabs at the top of the page
You can contact us here
The Dogfather is Graeme Hall (Graham Hall) MGoDT, independent professional dog trainer and dog behaviour expert based in the Midlands, covering all of the UK. Graeme is a A Master Dog Trainer with the Guild Of Dog Trainers.

Graeme offers dog training and dog behaviour help for a fixed price in Bedfordshire, Buckinghamshire, Oxfordshire, Northamptonshire, Warwickshire, Derbyshire, Leicestershire, Rutland, West Midlands and Worcestershire. (But he'll happily travel further if you need him. (See here for details)
Graeme Hall "The Dogfather"