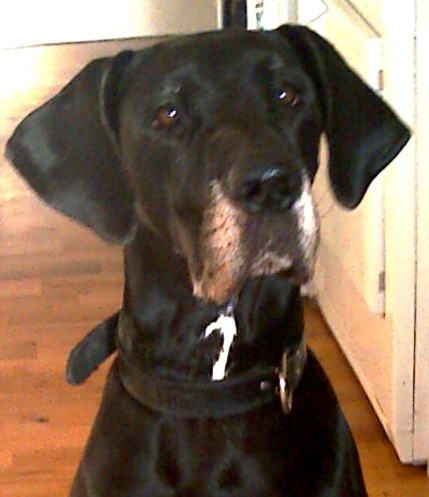 "Thanks for all your help – implementing changes you recommended as we speak!! You have made me feel much more confident about managing the dogs, and I am very grateful. I must say – lots less 'pacing & yawning' already. I have put a recommendation on the Great Dane Forum. Looking forward to seeing you soon, and learning more cool stuff!" Originally posted 2nd June 2009
"Update, June 2011: Just thought I'd share an update with you. Well, since we moved I have been walking (with increasing confidence) Raith & Rumor every day, now I don't feel the need to put them in halties, just the slip lead. Thanks Graeme for pointing the way to happier and more obedient humans! we now get positive comments about the dogs behaviour!"
Graeme says: Isn't that great? Two great big powerful dogs walking along nicely on just slip leads. Debs won't mind me saying that she was never going to physically overpower them! Luckily it's not necessary when you know how. I take my hat off to her – Once she was on the right track from a one to one dog training consultation, there was no stopping her, she's just improved her dog walking technique with time and the dogs have continued to get better and happier (along with their people!). Great!
Debs can now walk these previously uncontrollable Great Danes with confidence. I'm sure I can help you too, whatever your dog behaviour or dog training problem. Contact me today!
Updated 28th June 2011