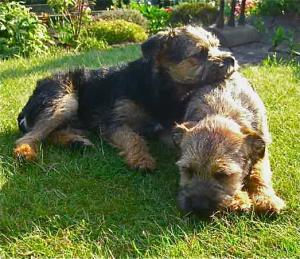 Having done the unspeakable and bought two puppies from the same litter, I employed the services of the Dogfather early on to ensure I didn't get things badly wrong with Fern and Bracken, the demon duo.
I chose one to one puppy training. Graeme gave me personally so much training on recall, obedience and general control.
I now have two fabulous 17 month old Border Terriers and I am continuously getting amazing comments about their good behaviour and excellent interaction with other dogs.
They have recently been attending "doggy day care" and their interaction with all other dogs is so positive. It was commented on that people thought they were at least 3 years old as they are so calm and well behaved.
Many thanks Graeme. We would never have got to this stage without you! Gwenn   (Added 21st May 2011)


(Graeme Says: You're welcome Gwenn. How lovely to see what calm and happy dogs they've become. A credit to you too!
)