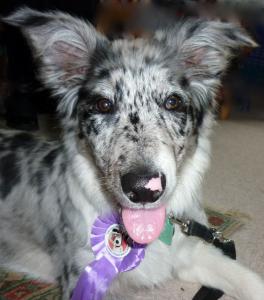 Just a quick email to say how much Delphi and I enjoyed your puppy classes!
Although I have rescued dogs in the past, Delphi is the first puppy I have brought up from scratch – my others were all adult dogs. I was very keen not to make some of the mistakes with her that I have made in the past! I have learnt an awful lot about dog training and dog behaviour in the six weeks puppy training and socialisation course and now feel much more confident about going forward.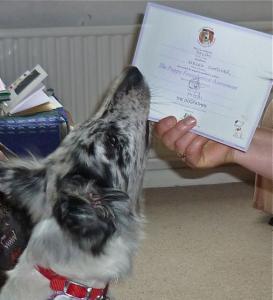 Most importantly of all though, Delphi has had a lot of fun and has grown in confidence when meeting other dogs and people! Thank you very much!! I would definitely recommend your training classes to anyone with a new puppy, whether they had owned dogs before or not!
(Graeme says: Thanks for taking the time to write in Helen. Doesn't she look pleased with herself? Well done to both of you! Good luck with the agility, I'm sure you'll do well. It's a team game and you're great together)
Added 27th May 2011