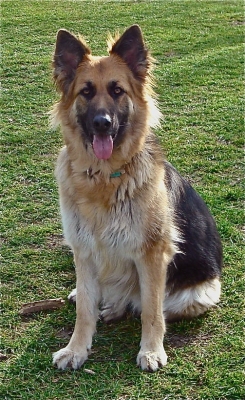 "This is to say thank you so much for what you have done for Maisey and I. She is a totally different dog to take on walks now. If you remember she used to take me and it was not a very pleasant experience. I can now go out in confidence with her and she mainly walks to heel, apart from the first 5 minutes where she is excited.
I have now calmed her down so that she sits at the front door with it open until I say she can go. I still a bit of a problem with getting her out of the gate, I put that down to her youthful nature. She has calmed down a great deal and I have kept up all the things that you suggested and told me. What a different dog she is!
"Thank you so much for your help with her and not forgetting me. I know I was too soft with her but now she knows I am in charge and she is not.
"I have sung your praises to people and no doubt that in time they will call you to help them. Thank you very much again for your help.
"
Graeme says: How lovely! An unsolicited (and unedited) message received today from a One to One Dog Training client. Ingrid: Keep up the good work. She was looking LOADS better when I saw you last. It's easy when you know how, eh? Even with big powerful dogs like a GSD. (And you're quite right, it is very much about training people as well as dogs. Well done!).
Added 15th Aug 2011