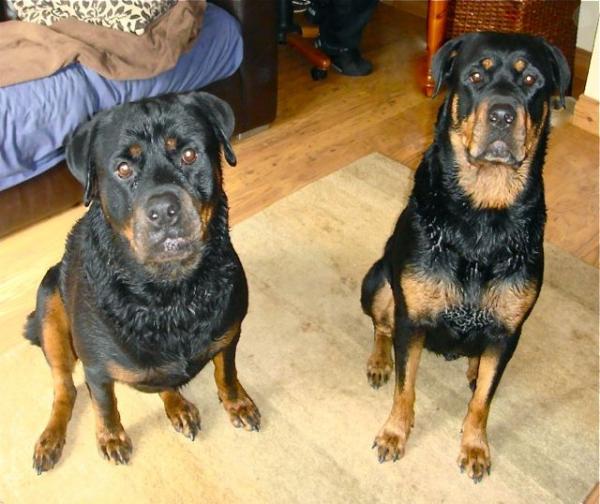 "We have two Rottweilers, Diablo and Tiamo, both are dearly loved members of our family. We desperately needed dog training help with 'Tiar' who, through being protective of her Mum, had harmed two small dogs. This caused obvious distress to their owners and genuine distress to us. We were apprehensive about enrolling any dog trainer because Rotties come with a bit of a reputation.
"Finding Dogfather Training was a wish come true not only was he an exceptional dog trainer, cos lets face it, most of the problems are ours not our dogs, but Graeme also has two Rotties so he knows all their traits.
"As soon as Graeme came into our home he was able to calm them. Yes, they did their usual "who is this, I'm going to bounce all over him until I get the attention I deserve" but he was reminded them that good things come to those that wait and within a minute they were sat at his feet waiting for him to tell them when it was time for fuss. The miracle didn't stop there. Usually when leads go on it is a fight which dog is going to barge through the door first. Not with Graeme, oh no. He had Tiar sitting at the door waiting to be invited out to walk.
"Graeme was able to put us at our ease and worked with me specifically so that I was able to maintain my dogs' focus on me and to make sure that despite how much she wanted to go off and greet other dogs, she couldn't. This was her walk but on MY terms.
"I now have my dogs back. Whilst they have always been a joy in our home, walking them often felt like Russian roulette but I now feel comfortable walking them on my own and in complete and full control. Thank you so very much Graeme!
"
Graeme says: It was a privilege to be able to help a couple of dogs who'd previously got themselves into so much trouble. 'Tiar' in particular had been a big worry to responsible owners Steph and Jason. I'm absolutely delighted to report that after One to One Dog Training they're much, much, better behaved now. (So are the dogs, incidentally. Ahem.)
Added 25th August 2011